Adobe Photoshop Lightroom (Lr or LR) is a photo processor and image organizer developed by Adobe Systems for Windows and OS X. It allows viewing, organizing and retouching large numbers of digital images. Lightroom's edits are non-destructive.
Learn how to get the most out of Adobe Lightroom with this collection of MORE THAN 300 Video Tutorial lessons.
Use this app as a "Video Referencing Library" where you can come back for a refresher lesson or search for how to do something new.
App features:
** Edit the video title, subtitle and keep your own set of user notes.
** Move the video around it's group and even change it's group.
** Make videos your favourites and give them your own rating
** Search by title or notes
** View by favourites or rating
** View by history the last ten played or visited videos
Lessons include:
Adobe Lightroom 5 - Beginners Tutorials - Introduction to the Series
Adobe Lightroom 5 Beginners Tutorials - 01 - Getting Started
Adobe Lightroom 5 Beginners Tutorials - 02 - Adding Watermarks
Adobe Lightroom 5 Beginners Tutorials - 03 - Securing Your Photos
Adobe Lightroom 5 Beginners Tutorials - 04 - Adjustment Brush
Adobe Lightroom 5 Beginners Tutorials - 05 - Two Important Tools
Adobe Lightroom 5 Beginners Tutorials - 06 - Spot Removal Tool
Adobe Lightroom 5 Beginners Tutorials - 07 - Creating a Preset
Adobe Lightroom 5 Beginners Tutorials - 08 - Retouching a Dark Photo
Adobe Lightroom 5 Beginners Tutorials - 09 - Dramatic Night Photo
Adobe Lightroom 5 Beginners Tutorials - 10 - Retouching a White Sky
Adobe Lightroom 5 Beginners Tutorials - 11 - Fake HDR
Adobe Lightroom 5 Beginners Tutorials - 12 - Dramatic Black and White
Adobe Lightroom 5 Beginners Tutorials - 13 - Selective Black And White
Adobe Lightroom 5 Beginners Tutorials - 14 - Hollywood Look
Adobe Lightroom 5 Beginners Tutorials - 15 - Landscape Retouching
Adobe Lightroom 5 Beginners Tutorials - 16 - Tips On Long Exposure
Adobe Lightroom 5 Beginners Tutorials - 17 - How To BackUp Important Things
Adobe Lightroom 5 Beginners Tutorials - 18 - Wash Of Look
Adobe Lightroom 5 Beginners Tutorials - 19 - Potrait Retouch
Learn Lightroom 6 CC - Episode 1 Quickstart
Learn Lightroom 6 CC - Episode 2 Tools Lens Corrections
Learn Lightroom 6 CC - Episode 3 Process a BW Image
Learn Lightroom 6 CC - Episode 4 Portrait Retouch
Learn Lightroom 6 - Episode 5 Sharpening Noise Reduction
Learn Lightroom 6 CC - Episode 6 Tone Curve
Learn Lightroom 6 CC - Episode 7 Split Toning
Learn Lightroom 6 CC Episode 8 Processing Workflow Pt 1
Learn Lightroom 6 CC - Episode 9 Processing Work Flow Pt 2
Conventional vs Digital Watermarks Pt 1
Conventional vs Digital Watermarks Pt 2
Learn Lightroom 6 CC - Episode 10 Processing Workflow Pt 3
Learn Lightroom 6 CC - Episode 11 Create a Panorama
Learn Lightroom 6 CC - Episode 12 Create an HDR Image
Learn Lightroom 6 CC - Episode 13 Loose Ends
Whats New in Lightroom 61 CC20151
How I Backup My Images
Learn Lightroom 6 CC Episode 14 Selective Color
Learn Lightroom 6 CC - Episode 15 Watermarks
Learn Lightroom 6 CC - Episode 16 Advanced BW Processing
Learn Lightroom 6 CC - Episode 17 HDR From a Single Image
Whats New In Lightroom 62 CC20152
Learn Lightroom 6 CC Episode 18 Convert a Scanned Color Negative
Learn Lightroom 6 CC Episode 19 Smart Previews
Whats New in Lightroom 66 - CC20156
Learn Lightroom 6 CC Episode 20 HDR Without the HDR Look
High Noise Workflow Using Lightroom Topaz Denoise and On1 Effects
Learn Lightroom 6 CC - Episode 21 My Panorama Workflow
Learn Lightroom 5 - Part 1 Quickstart Training Tutorial
Learn Lightroom 5 - Part 2 Tools Training Tutorial
Learn Lightroom 5 - Part 3 The Develop Workflow Training Tutorial
Learn Lightroom 5 - Part 4 Processing a Photo Into Black White Training Tutorial
and more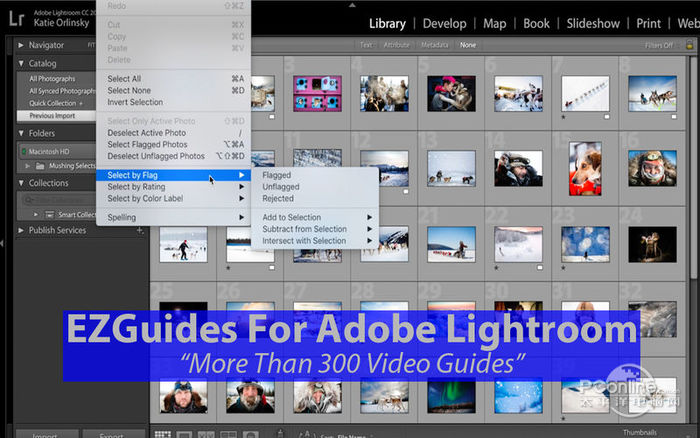 EZGuides For Adobe Lightroom Mac版 截图1
EZGuides For Adobe Lightroom的新功能
1.Search Bug repaired
2.Interface upgraded
3.Full play window enabled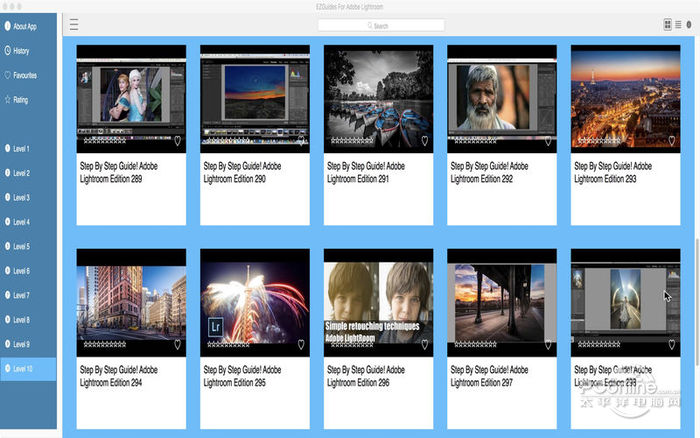 EZGuides For Adobe Lightroom Mac版 截图2
截图3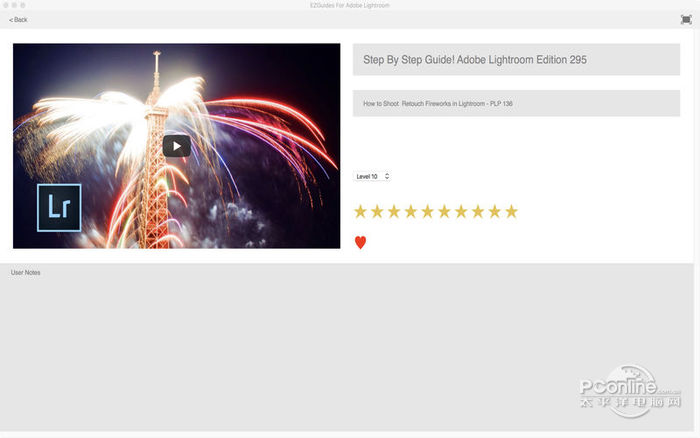 截图4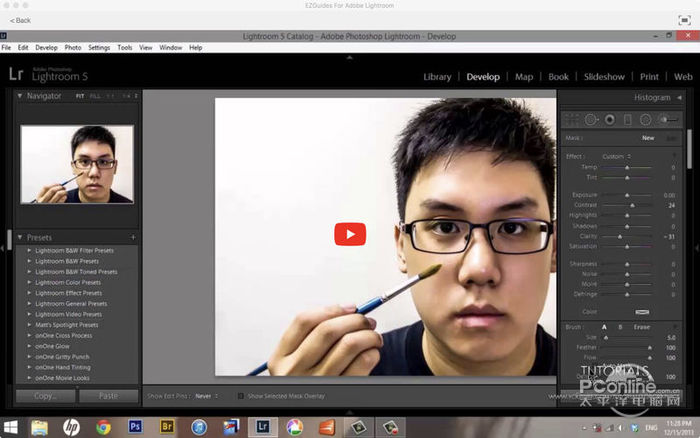 截图5